August can be hectic with all the back-to-school prep required to get a classroom up and running smoothly. Throw in a bunch of PD and mandatory meetings, and you can find yourself scrambling to prepare all the things you need for the first days of school. However, it doesn't have to be so bad. These simple tips will help jump-start your back-to-school prep before you leave for the summer (or even in those first few weeks), and they'll take you less than 20 minutes!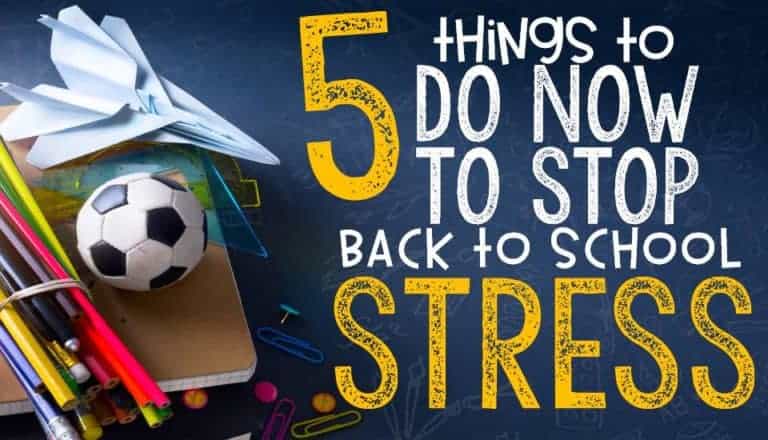 5 things to do now to stop back to school stress
1. Update your Meet the Teacher letter.
Yes, it can seem silly to update your letter now, but those 10-15 minutes you'll spend in August can be better used other places. Once summer staff development hits, your to-do list is already OUT OF CONTROL!
Take a few minutes to look over the letter you send home with students those first days of school and make sure it represents you and really gives families the first impression you want. You are much more likely to make meaningful adjustments when you aren't stressed with a list of 500 other things to print, laminate, or prep.
If you've got extra copies, you can even print these and pop them in a folder ready for the fall.
2. Decide on an organizational system…or evaluate the one you have.
I personally keep a binder to help me track everything, but you might use folders or cute plastic bins. Whatever works for you, really.
Before I walk out the last day, I like to update my binder by removing all the information from my current students and setting up a few things for next year. I also clean out any spare papers in my catch all plastic folder tabs.
Print out next year's academic calendar. I got a great one from KindergartenWorks a few years back that is editable. This lets me add the important dates and have this ready to go when I am starting to lay out my unit plans. I like to hole punch mine so the calendar pages open flat like the image below (excuse the really old photo…I don't take a ton of pictures of my calendar).
I also make sure to set up my plans section for the next year so that I can quickly and easily add student names to my student data sheets and grade tracker once I have my class list.
If you're looking for a quick and easy grade tracker. You can get my Fill & Save Grade Tracker for free to help you get organized.
3. Update your Website
I cannot tell you enough how much doing this before the end of the year has helped me.
Because parents are looking at this from the minute they find out you are their child's teacher, this is really one of your first impressions. Spending a little time on this as you finish packing your room (or even a few minutes between trips to the pool and leisurely lunches) can really help you focus on making it a true representation of your classroom.
There are many free options you can use to get started. For the majority of my time in the classroom, I've used Blogger because it is super easy and my district uses Google everything so it is easy to integrate.
A while ago I decided it was worth it to plop down some cash and bought an inexpensive pre-made template from the lovely Emily at Blogaholic Designs (In case you are looking, she was fabulous. I had a small issue on my end because I like to think I am more tech-savvy than I am, and she was able to quickly and easily remedy it. I HIGHLY recommend her.)
Here's a little peek into what my class site looks like:
This year I am really focusing on ensuring that I have working links on my student links pages (the icons on the left designed to match a few files I use that were purchased from Ladybug Teacher Files).
I also am spending some time writing a short description of each unit I teach for the "What We're Learning" section. The descriptions will include standards, specific projects or activities connected to the unit, and what they can expect their child to be able to do.
I'm using a Google Doc to keep track of them all so I can cut and paste the descriptive paragraph into my site when it comes up in the curriculum. Since parents love to be up-to-date about what their kiddo is learning, this will save me a ton of time updating the website during the school year. I can just focus on adding photos and other personalized details to give them a glimpse into our classroom.
4. Prep Your Back to School/Parent Night Presentation
Again, I have to give a shout out to Ladybug Teacher Files for making this one a snap!
I used her super adorable, editable template (which you can get for free here) and made it my own. It took some time, and there will always be things to adjust each year, but now I am able to tweak and adjust vs. reinvent the wheel each year.
I also had a few slides of my own (and thankfully the same set of clip art that she used) to help cover some gaps between my school's expectations and the slides she had available.
Here's what I added: 
Technology. We use a lot of technology in my room (and at my campus, in general). As a result many of the parents come ready to ask questions related to what their child will be doing on the technology.
This helps me prevent a slew of those questions at the end. I also added slides about enrichment and PBL, both of which are campus initiatives.
Remind 101 Code. I added a slide to get parents to sign up for Remind 101. This let them do it right then and there…saving me LOTS of time and explanation.
Before You Go Checklist. I added the Before you go slide. This was left up on the screen and reminded parents of what I needed from them before they left.
This year, I will be adjusting some things and making some clarification on items parents asked a lot about last year, but this still should only take me under 20 minutes. I will also probably put together my forms and other papers into parent file folders so maybe an hour and a half, tops!
5. Organize Your Pins
I am sure you are all on Pinterest pinning all the amazing ideas you plan to implement next year. However, if you are like me, you never get around to half of them because the pin gets buried somewhere and you never see it again until you've just finished teaching that unit you wanted to use the idea for…Murphy's Law, right?
Well, now is the time to get organized. It's summer break. You're on Pinterest anyway.
Spend 15-20 minutes deciding what you can do to organize your boards for usability.
Right now I have my boards sorted by subject. I can tell you right now, it isn't working. We get to place value, and I remember that cute activity I wanted to try, and 30 minutes of searching later I end up getting distracted by another math idea.
Therefore, I am going to start breaking my pins down by subject and unit…or maybe by standard. Haven't quite fleshed this one out yet. Either way, it will be much easier for me to find (and use) my pins in my classroom with far less digging with a fine tooth comb.
So what are you waiting for?
There you have it. Five things that can help you ease the hustle and bustle of the beginning of the year!
Why not get a few things checked off the to-do list now?