Learn more about your students with this All About Me Book. This back to school activity is great for the first day of school (or even the first week) and is perfect to showcase at your open house or fall parent-teacher conferences. It is a great way to help students share about themselves and learn about one another. In addition, it makes a perfect keepsake that parents love.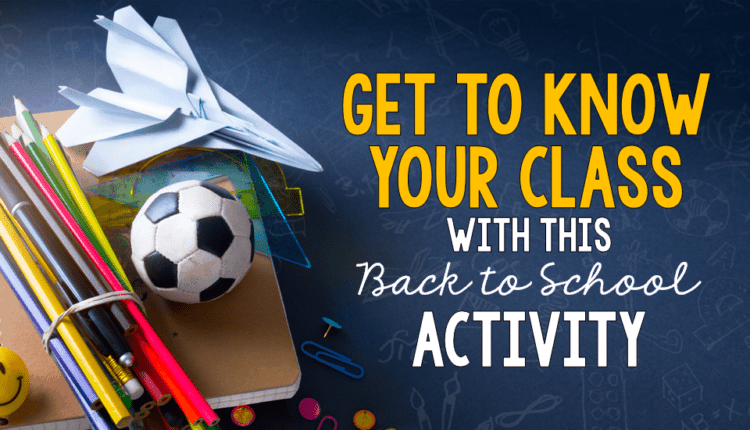 Building strong relationships is one of the most important things a teacher can do. The focus of this all about me activity is to give students a chance to share the important things in their lives. Whole group brainstorming sessions and one-on-one discussions can help you get to know your students on a deeper level early in the school year.
What is included in this All About Me Activity?
These all about me books are perfect for the 8 x 8 books from the Target Dollar Spot. They can also be printed, cut, and stapled together to make a booklet.
The design is modeled after the popular bullet journal format, and it gives students space to doodle, draw, and write about themselves. As a result, no two books will end up looking alike.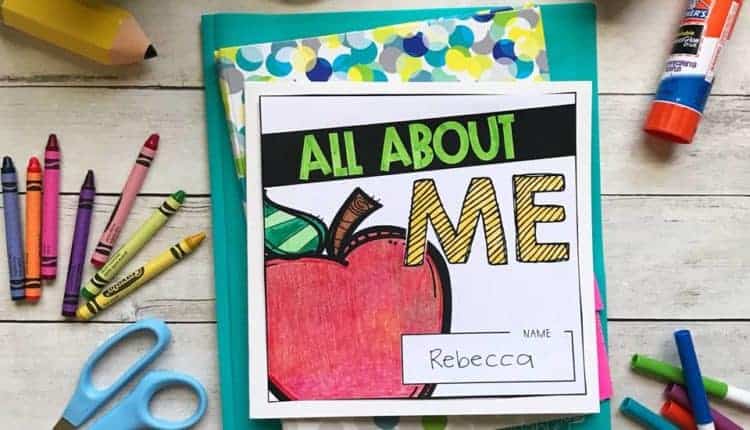 This includes instructions for preparation and instructional tips for helping students get the most from their all about me book. This is especially important if you are planning to have students present these to their parents as a part of open house or parent-teacher conferences.
Activities to dive into academics in a low-pressure way
Math About Me
Students love to share about themselves. This page offers a great opportunity to reconnect with some of those math skills that may have been forgotten over the summer in a low-pressure format.
Pull out a measuring tape or yardstick and allow students to measure their height. For older students you can encourage equations instead of just numbers for things like their birthday.
Through whole group or small group brainstorming, students can reflect on different ways they can write numbers.
5 Words that Describe Me
On this page, students generate 5 words that describe them. It is a very simple page, but it allows for some great discussion and the introduction to character traits early on.
You can do a whole group or small group lesson focusing on brainstorming possible traits. After creating this page, you can also give students a chance to share their traits with explanations for support. This is a great way to build speaking and listening standards into your back to school lesson plans.
Activities to learn more about your students as learners.
One page in this resource is designed as a survey format to get insight into how your students learn best. The students can circle or color their preferences and write you a note about anything else they might need as a learner.
I love to have students create goals for themselves for the year. They also make great topics for discussion in a morning meeting. I let my students make these goals personal, academic, or social.
The all about me book template includes a goal-setting page to allow students to record these goals to share with parents or peers.
Activities to learn more about your students & their families.
These pages capture the students' preferences at the beginning of the year. From sharing favorite things to facts about their family, these pages are designed to help give you background knowledge about your students and to generate conversation among peers.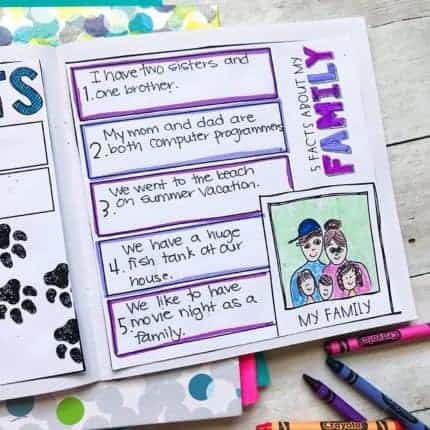 One page gives students a chance to share their talents. This can be a great way to help you learn more about what your students are good at so you can incorporate it into your instruction.
There is also a page that gives students a chance to share things that make them happy. It is titled "Things that make me H-App-Y". There is plenty of space for students to doodle and record things they enjoy.
Activities to let students ask questions.
One of my favorite pieces of these all about me books is the teacher note. Students have a chance to write you a note about themselves and ask you any questions they might have. Students will often share things they might not mention otherwise.
Plus, these letters serve as a great way to get some insight into your students foundational writing skills.
There is a separate questions page, titled "Questions on my mind". This page is a great way for you to discover questions your students have about your class. I often use these to help me generate ideas for discussion or areas I need to review for rules & expectations.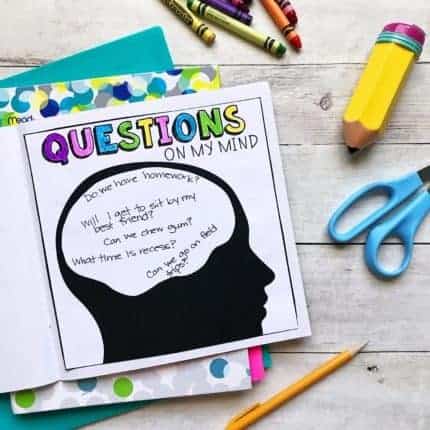 How to Get Started

A great book to introduce this All About Me book is First Day Jitters by Julie Danneberg (affiliate link). The main character is a little bit nervous about her first day at school.
I love to get started with this book and talk with the students about I am always just as nervous as they are about a new school year. I explain that learning more about one another is a great way to help relieve some of those jitters.
How to Buy this All About Me Back to School Activity
This All About Me Book can be purchased on Teachers Pay Teachers.
---
I hope this article helped you better see how this All About Me Activity can help students get to know one another. If you'd like more ideas, be sure to follow me on: