This fun St. Patrick's Day Writing Craft is a great way to get students writing. This writing project makes a displayable banner and is a perfect way to blend academics into your St. Patrick's Day fun.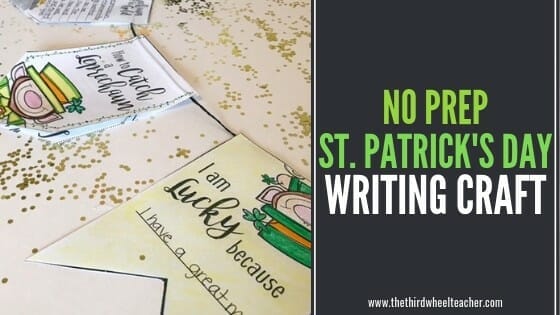 St. Patrick's Day is a fun holiday, and it offers lots of great ways to get kids engaged in learning.
This craftivity offers an approachable take on writing that can engage even the most reluctant writers. Offering a variety of different writing options, including expository and personal narrative, you'll find something for everyone. Click the button below to get it now!
What's included in the St. Patrick's Day Writing Craft?
Maybe it's the leprechauns or the thrill of watching for those who aren't dressed in green. Either way, St. Patrick's Day can be a hard day to teach.
This writing craft was designed to be easy-to-implement and standards-focused to keep students learning.
The St. Patrick's Day Writing Banner Craft includes five different prompts and multiple design options so you can customize the banner to fit your students and your classroom decor.
Read more about each of the included writing options below.
St. Patrick's Day Writing Prompts
This pack includes templates for three popular genres of writing commonly studied in elementary school – personal narrative, expository, and poetry.
Each prompt gives students a clear structure for their composition and comes in several design formats. You'll find suggestions for implementation and how you can best support your struggling writers under each genre below.
Personal Narrative: A Time I was lucky…
The personal narrative is commonly studied throughout upper elementary, but many students still struggle to compose focused narratives.
This prompt offers students a chance to brainstorm about a time they were lucky and retell their great fortune.
Start by brainstorming what types of things might be considered lucky. This gives students a way to get started without being overwhelmed by the writing process.
While many students enjoy writing about themselves, having an event or situation in mind can help weed out ideas and allow them to select a moment to write about more easily.
Expository Writing: I am lucky because…
Expository writing is often on standardized writing assessments and is commonly quite difficult for students.
Working on short compositions, such as the one included in this pack, is a great way to help make it less overwhelming for struggling writers.
This expository prompt asks students to think about the special things and people in their lives. Students then write a short composition about why these things make them lucky.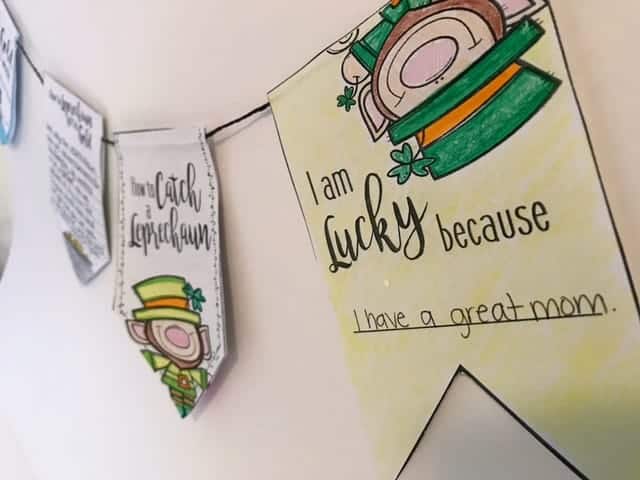 You can start by partnering students and having them think-pair-share about all the ways they are lucky.
Modeling is also a great way to help students find a starting place and structure for their writing. The sentence starter format is also great for your language learners.
My favorite part of this prompt is when students start to reflect beyond material objects and start to see just how much they have to be thankful for in their lives.
It also makes an amazing display. Many passers-by and visitors to our school stopped by to read and comment on my students' writing when I have this banner hung outside our door.
Procedural Writing: How to catch a leprechaun…
This fun, imaginative prompt gets students excited to write. Plus, there are so many ways you can extend this project to other great St. Patrick's Day activities.
If you're looking to get students creative juices flowing, you can start by reading the book How to Catch a Leprechaun by Adam Wallace. Get the book here. (disclosure: affiliate link)
You can even provide them with some basic supplies and have them construct their "leprechaun trap" as a STEM connection.
Regardless of whether you decide to make this a cross-curricular event, your students can generate a step-by-step process for creating a leprechaun trap.
To get started, you can have students brainstorm and record ideas as a large group or in small groups. Once the creative juices get flowing, you can let students imaginations run wild as they write out the steps for catching a leprechaun.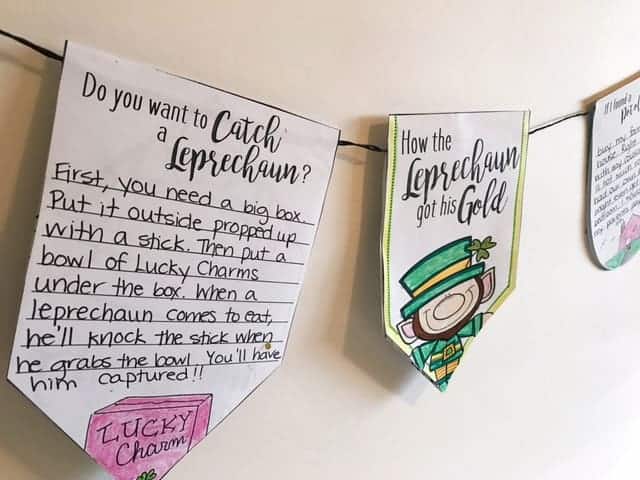 These always end up so creative and fun. I guarantee at least one student's plan will make you laugh out loud!
Expository: If I found a pot of gold…
There are two expository templates in this pack to give you plenty of options. This one is fun because your students get to be creative. Who doesn't like imagining what they'd do with a big 'ol pot of money, right?
To get started, you can have students brainstorm and take notes on your board or a piece of chart paper. However, it typically doesn't take long to get students motivated to write with this prompt, making it perfect for reluctant writers.
Once students are ready to work on their own, you can provide them with the banner template and watch the creativity begin!
You'll love the fun, crazy, and often sweet ideas your students have for spending their pot of gold. You might even have a student decide to save some for later!
Creative Writing: How the leprechaun got his gold
Creative writing is often left for the end of the year. It is never tested, and there are often few writing standards that encourage it.
However, students LOVE creative writing. If you are looking to let your class' imagination run wild this St. Patty's Day this is the perfect opportunity.
Allow students to work in partners (or as a class) to brainstorm about how the leprechaun came to have a large pot of gold. It had to come from somewhere, right?
Once those creative juices are flowing, you can allow students to complete their writing template. You'll love all the great ideas they come up with.
Creating your St. Patrick's Day Banner for Display
Changing out bulletin boards can be frustrating and time-consuming. Instead of spending the time to switch out the whole bulletin board, do seasonal boards and add a fun writing banner to change it up regularly.
Creating your banner takes only minutes.
Here's what you need:
a stapler or double-sided tape
ribbon or string
complete banner pieces
To create your St. Patrick's Day Writing Banner, start by organizing the writing passages in an order that makes sense.
Consider neatness, design, and the quality of responses when determining what order to put them in.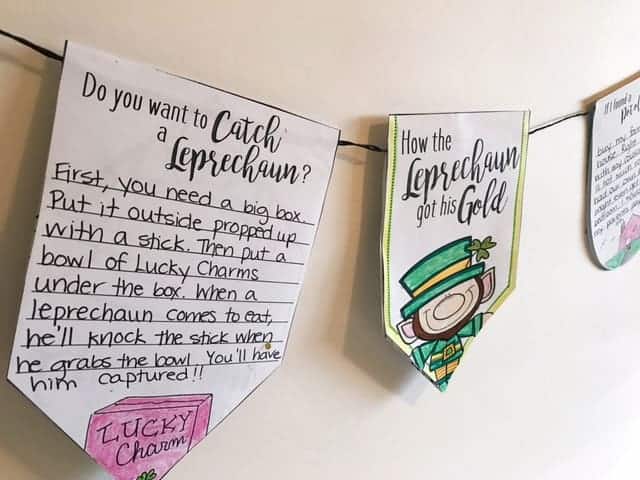 Once you've organized them attach them to the ribbon or string with double-sided tape or 1-2 staples.
Hang the banner, and you're done!
How to purchase this St. Patrick's Day Writing Craft
You can purchase this St. Patrick's Day Writing Banner on Teachers Pay Teachers.
If you're looking for more great ideas for your classroom this March, check out these articles:
---
Hope you found this information helpful in planning your St. Patrick's Day lessons. This is such a fun project, and the students love seeing their work displayed.