Whether you are a veteran Google Classroom user or are just using Google Classroom as a transition to distance learning, Google Classroom is an amazing platform to get your students engaged. To keep the learning going strong with your students, use these tips and tricks for Google Classroom!
Stay organized.
This one is a no brainer whether you're physically teaching in the classroom or utilizing distance learning. Being organized just makes things easier. The big difference is how this looks in Google Classroom.
Organizing your digital classroom helps you and your students know where to go. First, use the topic feature in your Classwork to label the class session, date, or unit. The topic feature acts like a heading, which helps everyone find what they are looking for quickly and without frustration.
Here's where you'll find this feature in Google Classroom:
Create pre/post assessments.
Next, follow your topics with a question for each unit. You can make this question a short answer or multiple-choice, graded or ungraded, but it's a great tool to pretest students. Try using the same question for a post-test at the end of the unit.
This can give you great insight into who might need extra resources or supports and who may need some acceleration. Some campuses use essential questions, which can be a great starting point when you're looking at assigning a pre-assessment.
No matter how you decide to do this, make the pre-assessment short and sweet. There's no reason students should be answering 15-20 questions before they've worked through the unit, and you're unlikely to get the data you're seeking if you ask for too much upfront.
Use video to connect.
Google Classroom and YouTube integrate seamlessly, and your students want to see you! Create a quick video, introducing a class session, concept, or unit. Upload your video to YouTube (you can create a private channel if you prefer).
Once you've got the video on YouTube, post it in your stream on Google Classroom. Think of it as a mini-mini lesson. Get the big ideas or introduce the concepts in under 3 minutes in order to keep students engaged. Students can watch those videos quickly and revisit them if needed.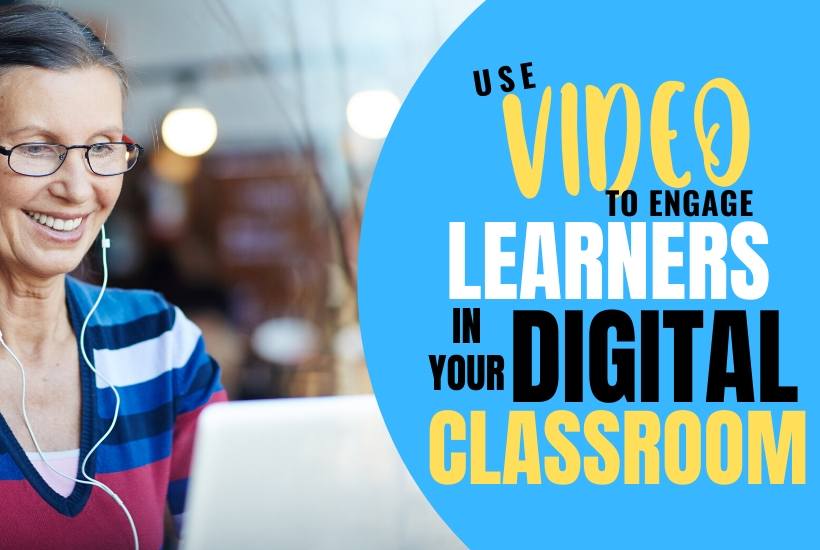 Besides continuing to foster the connection between you and your students, video is an easy way to differentiate so that all students have access to the information you're sharing. For example, video allows struggling readers to focus on the material that is required reading rather than on the introductory or organizational elements.
Create a roadmap for students.
Having a unit or topic guide can be really helpful when it comes to keeping students on-track and making connections. Create a slide or handout that can serve as a roadmap to guide students through everything they'll need to access and do for the unit.
You can do this as a Google Slide or upload a PDF that can be printed and checked off. Either way, focus on making this a single page/slide. This will let students have a quick reference guide to what they need to accomplish to successfully complete the unit.
Be consistent.
Whatever your format, be consistent for yourself and for your students. Try to keep the same general structure for each unit you create in your Google Classroom. While you can change up the content and how students practice, you'll want the general structure and organization to be the same.
If students have to search for an assignment or for information, they will be frustrated, lost, and confused. Help them be successful with consistency. The roadmap mentioned above is just one way to do this.
Stay organized on Google Drive.
Start a folder on your Google Drive with the same pattern of organization that you use in your Google Classroom. Keep all of your materials in a folder on Drive. Within that folder, have folders for each class session, date, or unit. Have all of the materials in that one spot.
When you post items in Google Classroom, folders will be created for student materials and assignments, however, you will want to have a system of organization for items that you plan on sharing on Classroom.
Incorporate collaborative & individualized assignments.
You can assign students activities that allow for collaboration or individual assignments. When you create an assignment, you can add a file (from your computer or from your Drive).
Once you load that file, you have options to allow students to view files, edit files, or make a copy for each student. If you want students to work in small groups, you can have them edit the same file, and assign specific students to that assignment.
Repeat this process for group work, or you can select make a copy for each student to have individual answers. 
Struggling to keep the steps straight when it comes to creating assignments? Click here to learn more about setting up your Google Classroom and get the free printable guide to creating assignments that will walk you through the process.
Become a student.
Being able to see your room from the student perspective isn't a luxury we have in the real classroom. However, the digital classroom makes it easy to do just that!
Add yourself (personal account or another account) as a student to the class. Sometimes mistakes happen, but if you are listed as a student, alerts, assignments, and messages will come to you, too.
You'll be able to see when students get them, and you can see what everything looks like from that student perspective.
Batch your work when you create materials.
Batching is a productivity technique that is well known in the business world, but it isn't discussed much in teaching. That being said, it is a HUGE timesaver.
Batching, or grouping tasks and completing them at the same time, is an easy way to shave time off your prep. For example, create a series of videos at one time instead of doing one each day.
Do the same thing with your assignments. Create them ahead of time in Drive, and then link them later as needed. This will keep you in the same mindset when you are creating related materials or videos and save tons of time!
Re-use posts.
Within Google Classroom, you have the option to reuse a post. When you select that feature, you can select which class you want to use materials from, and you can select what materials you want to use. Be sure to create new copies of all attachments to avoid merging information.
Google Classroom is a great platform for education, but with these tips and tricks, your students will face digital learning with fewer challenges.
What tips and tricks have you learned for Google Classroom?