What is Fall without pumpkins? When October rolls around, kids begin to feel the Halloween itch, and with that comes pumpkin everything! These pumpkin science experiments are perfect for keeping your students engaged and learning important math and science skills this month. Whether you're running a STEM classroom or just want to incorporate more hands-on activities into your lesson plans, you'll love watching your students explore and discover through these investigations.
What skills will students be practicing through the pumpkin STEM activities?
There are a total of five activities included in my pumpkin science plans so that I can put my students into small groups and rotate through all the stations. This gives students more opportunities to get hands-on rather than just observing.
The students practice a number of different math and science skills including:
measuring width, height, and circumference using customary & metric measures
observing and recording physical properties of matter
comparing mass using a balance scale
generating predictions & testing hypotheses
strategies for addition, subtraction, and multiplication
exploring volume and water displacement
making inferences using data
How to prepare your pumpkin STEM stations
The following steps should be done before beginning these pumpkin experiments with students.
Get the pumpkins
For these experiments, you'll need a variety of sizes of pumpkins. I like to get about 10 of the small pumpkins, 2 medium pumpkins, and a large pumpkin. However, you could make it work with fewer pumpkins if needed.
Since you'll be using a number of pumpkins in these activities, consider asking parents to donate pumpkins. Just write a short note explaining what you need or enter your name and email to access this free version I've created.
When asking parents for donations, give at least a week of advance notice to get the best results.
Alternatively, you may consider checking in with your local grocery store or pumpkin patch about making a donation. If you plan to do this on Halloween or near the end of October, many places would be happy to give you the pumpkins for free or at a discount just to clear them out.
Once you've got all your pumpkins, number or letter them to make it easier to keep track. Black Sharpie works well for this.
Decide how you'll implement the stations.
Depending on your class and how many pumpkins you get, you may decide to set up these experiments in a variety of different ways.
If you've got a group that needs lots of teacher direction, you may want to run 2-3 stations one day and the others on a different day. This would allow you to monitor and rotate with students who might need additional support.
However, I typically run the stations concurrently so that we finish these experiments in a single day.
Create your mini-books.
I like to have my students keep all their data in one place. This makes it easy for me to review and helps students move easily from station to station. Instead of using their science notebooks, which can get messy from these experiments, I have my students create their pumpkin science tab book.
These are easy to cut out and put together, and students can color them if they have time. I've discovered that one staple at the bottom corner makes it easier for students to spread their pages out to write.
The five stations can be done as rotations, so we also had a conversation about finding the right page for each station before you begin because you might not go in order.
What are each of the Pumpkin Science stations?
1. Observing & recording physical properties
This station has students drawing diagrams of different pumpkins. Ideally, you'll want to select the pumpkins that are most similar to include in this station to make it a little more challenging for students and to ensure they focus on the small details of their pumpkin.
Each student will select one of the pumpkins at this station and record its physical properties using their 5 senses. Tell students to be thorough because you'll be asking them to find their pumpkin using only their notes later in the week.
Even if you don't get around to doing this later, it is a great way to get students to be really detailed about their pumpkin's physical appearance.
I allowed my students to use colored pencils and add detail to their diagrams. I also encouraged them to label important features.
2. Comparing pumpkin mass using a balance scale.
At this station, students get hands-on practice using balance scales. They also get to practice making comparisons and drawing conclusions. As students work through the initial comparisons and review the greater than and less than symbols, they discover there are some comparisons that they have to make by inferring from the data available.
In my classroom, this generated some deep discussions about how to order the pumpkins by mass when several of the comparisons weren't done using the balance scale. It was amazing to see them use their inferring skills to draw conclusions using the information they had gathered.
3. Measuring pumpkins using customary & metric measurement
Over the years, I've found my students don't get enough hands-on time with measurement tools like rulers and tape measures. Therefore, I love to incorporate these skills any time I get the opportunity. I even bring my scale from home to give students a chance to practice measuring weight.
In this activity, the students estimate the height, width, circumference, and weight of their pumpkin. Then they take the actual measurements to compare.
This is a great opportunity to introduce or review key measurement vocabulary, like inches and centimeters. It is also a great chance to build a frame of reference for students so they can improve their ability to estimate these measures in the future.
4. Introduction to volume & review of sink or float
By the time students got to my room, they typically were familiar with the concepts of sink and float. However, many students had incorrect assumptions about whether the pumpkin would sink or float in a large container of water.
For this experiment, students determine whether the size of the pumpkin impacts whether it sinks or floats. Before you begin, have students record their hypotheses and discuss what they think.
Weigh each of the three pumpkins (you can also do this with two pumpkins if it is easier). Then set each into a large plastic container filled with water and observe what happens.
Students are always amazed when all three pumpkins float. We also measure how high the water goes after we put each pumpkin in. This creates a discussion about water displacement and introduces them to the concept of volume – that matter takes up space.
5. Predicting & counting the number of seeds inside pumpkins
This station is great for helping students work on efficient counting strategies. I like to do this station as a whole group near the end if I've got a very large pumpkin and a medium pumpkin.
I split the class into two groups, and allow them to brainstorm what strategy they'll use to count the pumpkin seeds. Often you'll see students begin to think about skip counting or using equal groups, which is a great intro to multiplication concepts.
Once the pumpkin tops are cut off, the messy fun begins. You'll be amazed how completely engaged your students are in digging out the pumpkin guts to count every last seed.
After they've counted their seeds, we also count the lines on the exterior of the pumpkin, and I discuss how these can be used to make predictions about how many seeds will be inside. The more lines a pumpkin has, the more seeds we should expect inside!
Reflecting after your done
When we completed all our investigations, I always give the kids had the chance to reflect on their learning. You'll definitely get some great responses! In my classroom, you could tell the kids really were engaged and had some big ah-ha moments while they worked collaboratively through these pumpkin science experiments.
Having hands-on experience with pumpkins was something that many of my students did not have prior to our experiment, which was definitely an added bonus.
If you are interested in doing pumpkin science stations in your classroom, you can get the directions and the reproducible mini-book for your students at my TPT Store by clicking the link below: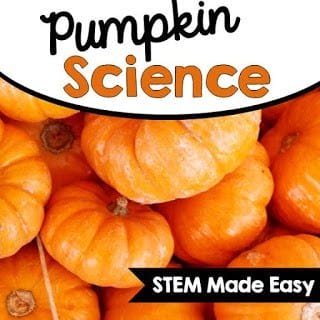 Find more great posts to help you prep your lessons this October: