This World's Best Grandparent Award is a no-prep writing project that is perfect for a quick September writing lesson and activity as Grandparents Day approaches. Students love to create for the special grandparent in their lives.  The craft has a graphic organizer for planning, all the pieces to create the ribbon, and additional writing pages for older students to write a longer response. Easy and meaningful, this Grandparents Day writing craft makes a fun bulletin board display.
Teaching is all about finding ways to blend academic standards with the real world. Grandparents Day is the perfect opportunity for students to apply the writing process to make a meaningful gift for a special grandparent (or grand friend) in their lives.
Getting Started – Brainstorming About Grandma, Grandpa…or Both!
This activity begins by having students brainstorm about their grandparent or grandparents. Students are given a graphic organizer to generate ideas about what makes their grandparent extra special. I model this using an anchor chart to generate ideas about my grandmother, who is super special to me.
Once I've modeled with a few ideas, I ask the students to think about the types of things I recorded. We discuss what they notice, and many times they make connections to their own grandparents.
The goal of this group analysis is to guide students toward generating specific ideas instead of things that could apply to anyone's grandparent.
Providing examples and non-examples is also helpful. For example, I might write "My grandma drove me places." With the help of the class, we might work to make that more specific and transform it into something like, "My grandma drove me 20 minutes to dance class each week when my mom had to work."
Once students know how to get specific with their details, I provide them with the graphic organizer to begin writing their own.
Create the World's Best Grandparent Ribbon
I ask them to identify 2-3 main points from their graphic organizer into their final writing. Once they've finished their organizer, I send them back to their seat to identify which are the most important ideas that they want to include.
Once these have been identified, I give students the ribbon template. Depending on who they wrote about, they will either receive the version for "grandma", "grandpa", or "grandparents".
Students then write a paragraph (or a couple of sentences) describing why their grandparent is the world's best. They use their graphic organizer to support their writing.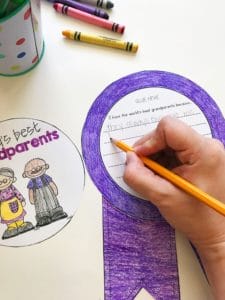 Younger learners may need modeling of how to construct the paragraph and may benefit from sentences stems. For my struggling writers, I often create a model topic sentence and conclusion to help support their paragraph construction.
When students finish writing, the students color and cut their ribbons out. They then glue the round cover piece to the ribbon. This creates a flap that can be lifted to reveal the paragraph.
World's Best Grandparent Writing Assignment
With upper grades, you can expand the writing portion and have students write a short composition.
They can write a paragraph about each of the main points they select from their graphic organizer. The decorative writing paper is provided to create a beautiful display piece and is perfect for mailing to grandparents who may live far away.
Multiple Formats Included
The great thing about this craft is that there are multiple formats included to meet the needs of your students.
Each format is included with and without a picture to allow students to sketch their grandparents, if you prefer. (There are also multiple formats of the clip art grandparents on the writing paper to give you a variety of options to pick from.)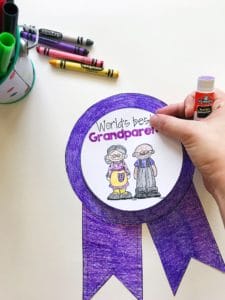 The following "World's Best" wordings are included on the writing paper for this craft:
Grandma
Grandmother
Grandpa
Grandfather
Grandparents
Get this Grandparents Day Craft for Your Classroom
This World's Best Grandparent Writing Craftivity is available in my TPT Store.
---