Keeping your struggling or wiggly learners engaged in math tasks can be hard. Hands-on learning that allows them to purposefully engage in multi-sensory learning can be a huge help and can keep learners on-task.
Today I wanted to share some fun ways to use building bricks to keep your struggling math students engaged in their learning.
How to Use LEGO™ bricks for Hands-on Math Practice
Students love building and creating, and there are so many ways to incorporate building bricks into your classroom. Whether you're using them as a STEM station or as a part of your lessons, you can be sure your students will love the hands-on building opportunities.
I prefer to get the kits that aren't meant to make one specific thing. These offer a good variety of bricks in different sizes and colors and they let the students use their imagination to create when I'm not using them for lessons.
Place Value & Number Sense
Place value and number sense are often challenging topics to keep struggling students engaged and excited about learning.
Adding hands-on activities can keep things fresh and fun which, in turn, leads to more learning.
Here are some great ways to work building bricks into your small group or math center activities for students.
Compare and Order Numbers
For those students obsessed with Lego or who learn better when they are actively doing something, this technique is a great way to practice those challenging place value skills.
Use a permanent marker to write numbers on the side of some Lego bricks. Depending on the age and level of your students, these can be simple numbers that go in order (like 1-10) or a variety of three or four-digit numbers.
Hint: Although the word permanent might seem scary, don't worry; it can be gently scratched off so you can use this bricks for other things later.
Encourage the child to stack the bricks in order from greatest to least (or least to greatest) as quickly as possible putting them in the correct order.
If you're looking for alternatives, you could put 10s numbers, numbers from the 9 times tables, or even decimals on the side and get your students to put those in order.
Skip Counting
Depending on the size of your bricks, you can help students build their skip counting skills that are necessary as they move toward multiplication. Use the studs, the raised circles on the top of the bricks, to support developing the number sense related to those number patterns.
While any size bricks can be great for counting by 2s, you can use the square bricks to count by 4s or the larger bricks to count by 6s, 8s, or 10s.
Number lines
Number lines are great for addition, subtraction, and even multiplication.
Create a number line by writing numbers along the side of the bricks. Each pair of studs might be equal to a number. For struggling learners this may be just one at the start.
Give the child an equation to solve (like 3 + 5 = ?). Have them use a character and place them on the number with the largest value. They can physically have the character move forward 3 spots to find the sum.
You can also use this to help students begin to get a sense of numbers. If one end of a long Lego is 0 and the other is 100, you can have students try to estimate where 70 would be on the number line.
Area & Perimeter
Area and perimeter can be challenging for struggling learners. Having opportunities to practice via hands-on activities can make a huge difference in student engagement and understanding.
As you begin, you can prepare some structures in advance and give students a chance to calculate the area and perimeter.
If you have access to a bin of building bricks, you can challenge students to build different designs that equal an area of 36 bricks, for example. Similarly, you can do challenge students to find as many ways as possible to create a structure with the same perimeter.
Another fun way to use building bricks as an area and perimeter math center is to prepare bags or boxes with a certain number of bricks in advance. This creates a set area for each set. You can challenge students to create the largest perimeter possible and draw their structure.
If you'd like more ideas and free resources for teaching area & perimeter, you may like this article: Tips, Tricks, and Activities for Teaching Perimeter & Area
Working with Data
Another important math skill that lends itself to hands-on learning is collecting and interpreting data using graphs and tables.
One fun way to use building bricks to do this is to use them to create bar graphs. For example, you might allow small groups of students to observe and record the color of cars that pass your classroom window for 5-10 minutes using tally marks.
After their observation, they can use building bricks to represent that data as a 3D bar graph. So, for example, if seven red cars passed during the observation, the students would stack 7 red bricks. They would continue until all the data has been visually represented.
Once students have their graph, you can have them answer questions about the data. Here are some examples of questions you might ask for the above scenario:
Which color car was observed most often?
Which color was least common?
How many more red cars did you see than blue cars?
You can do this with other data as well, and it is a great way for your struggling students to have a hands-on & visual interaction with the data they collect.
Patterns
Younger learners often struggle with understanding and extending patterns. Repeating patterns can be created by alternating brick sizes or colors. For example, red, blue, red, blue. Then you can ask questions such as, what color will the 7th brick be?
As students are ready, you can move toward more challenging patterns and allow students to actually build or add on to the pattern to determine if their response is correct.
If you're collecting data for struggling learners, digital pictures can be a quick and easy way to provide visual data for RTI or student support.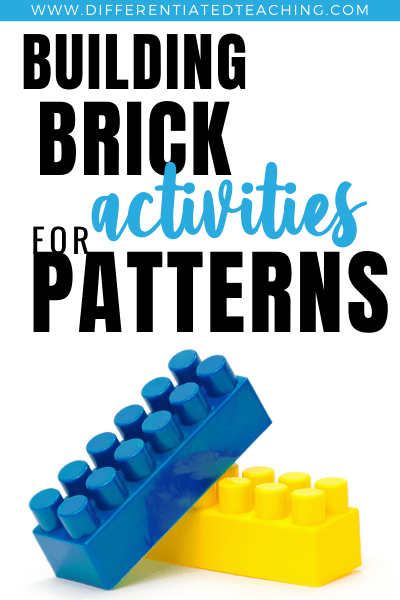 Money & Financial Literacy
This is a fun game that promotes problem-solving and is perfect for small groups or math centers. Have a wide range of bricks and accessories – such as doors, windows, etc. Give students a set budget and create a price list for students to use to create their structure.
Depending on your student's skill levels, you may need to create different price lists for different students. For example, struggling learners may be working with money amounts that come in values of 10 cents while more advanced students may have more variation in their cost.
You can give students a task or a generic item to build – for example, a house or a car. If students have a budget of $5, they will need to think carefully about what they want to build and what bricks they need vs. which would be nice to have. Then they can make a plan for how to spend their money.
While this activity can take some time, it is a good hands-on activity that can make budgeting more concrete for struggling learners.
Ratios & Fractions
Present the child with a selection of bricks all the same size and give them a ratio. For example, 1:3. The child should gather bricks to create a model using the ratio. For example, they may grab red and green bricks, and create a structure that has 1 green brick for every 3 red bricks.
You can also do this as a hands-on way to practice fractions. In the example above, one-fourth of the bricks are green and three-fourths are red.
Equivalent fractions can also be easily reviewed or practiced using building bricks. Using a selection of bricks that are the same size, you can start with 1/2. Have the child take bricks and try to make a tower that is half red and half yellow. For example, if the child takes 6 bricks of each color, you can discuss how 6/12 is the same as 1/2.
Once students have a solid grasp on equivalent fractions for halves, you can move to other common fractions like fourths or thirds.
Hands-on Learning Keeps Struggling Math Students On-Task
Finding hands-on opportunities to teach and review important math concepts is critical for students who struggle to stay on task.
When students are off-task, they often struggle to master important concepts or end up with gaps in their understanding. By finding ways to incorporate building bricks to support hands-on learning with your small groups or partner practice activities, your learners can develop their math skills through multi-sensory learning.
Looking for more fun ways to practice math? Check out these free math fact games.