Winter months come with lots of time indoors for many areas of the country, but they also have many great opportunities to make connections and teach about special events and seasonal themes. One easy way to begin this process is through some great winter novels.
Winter-themed literature and chapter books make a great way to engage learners and help them learn about people and places beyond the walls of your classroom.
That's why I compiled this list of my favorite novels to read during winter. Whether you're a busy teacher looking for your next novel study unit or a homeschool parent looking for a great book to engage your learner, this list helps you find your next great book.
What you'll find on this page:
10 Great Winter Novels to Read with Kids
I had a great time working on this list because it includes many of my favorite books from childhood. To ensure you have the information you need to make decisions, I've included a brief synopsis of each book, the general reading level, and a link to a ready-to-use novel study unit when available.
I've also included a link to the Amazon book to ensure you can quickly and easily get what you need to be shipped right to your door. These are affiliate links, which means when you click and buy through the link provided, you're helping me cover the costs to keep this site up and running.
I've found having these things at my fingertips has been a huge time saver when it comes to preparing lesson plans. So let's get started, shall we?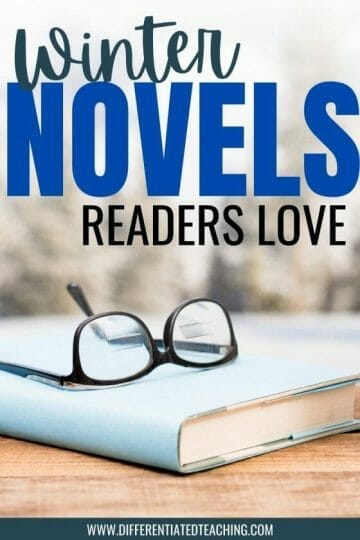 1. Stone Fox
Stone Fox is one of my favorite novels to read when we are getting ready to discuss the Iditarod. In fact, it is one of my favorite novels overall. That's why you'll also find it on my list of favorite books for 3rd graders.
This beautifully written story revolves around the main character, Little Willy, and his attempts to save his grandfather's farm after he falls into debt. Along with his pup, Searchlight, Little Willy takes on big challenges to come up with the money he needs for the taxes.
Little Willy is such a likable character. Your students will cheer him on as he attempts the impossible.
Just be prepared! You'll likely want to have a stack of tissues on hand as you get ready to read the final pages.
Cross-curricular connections: Iditarod, Financial Literacy, Adaptations
Ideal for: 3-4th graders
Teach with Stone Fox
2. Mr. Popper's Penguins
If you're on my email list, you'll know that my classroom mascot was a penguin until I married. As a result, each year, I would end up reading Mr. Popper's Penguins with my class as a whole class novel study.
While I don't do a ton of novel units as a large group, I found that the whole group experience was great for introducing novel study expectations and was a community-building opportunity. You can learn more about how I made that decision in this post about planning novel studies.
What do I love about Mr. Popper and his crazy penguin crew? Well, for starters, I love the rich vocabulary that this story introduces. I also love that it gives us an opportunity to make connections to science and social studies. The mini-lessons we can give on penguins and the Arctic – their habitat, food chain, life cycle, adaptations and more – are fascinating! Finally, I love that Mr. Popper's journey gives us chances to explore character traits like responsibility, courage and loyalty. All in all, it's an exciting way to learn about
If you haven't read it, the story follows Mr. Popper after his life is turned upside down after receiving a package from his favorite Arctic explorer. That package is, of course, a penguin. Not surprisingly, the Popper family is ill-equipped to care for a creature who is used to the frigid temperatures at the South Pole.
By the end of the book, Mr. Popper has pretty much mastered the art of penguin care. However, that doesn't mean having a pet penguin has gotten any easier!
Cross-curricular connections: Adaptations, Explorers
Ideal for: 3-5th graders
Teach with Mr. Popper's Penguins
3. Snow Treasure
It can be so hard to find historical fiction that is a good fit for middle-grade readers. However, this book absolutely fits the bill. In fact, it is actually based on a true story about a group of children living in Norway during World War II.
The novel follows Peter and his friends, who secretly work against the Nazi regime that has invaded their homeland. The children know the danger they face, but it doesn't stop them. In fact, together, they can smuggle $9 million in gold right past the noses of the Nazi officers nearby!
This heroic tale offers relatable characters and many great opportunities to make connections to history.
Cross-curricular connections: World History – WWII
Ideal for: 4-6th graders
Teach with Snow Treasure
4. I Survived the Children's Blizzard of 1888
First, if you haven't introduced your learner to the I Survived series, it is a must-read. In fact, I love these books so much that I also included a book from the series in my favorite novels for spring.
These books introduce learners to historical events in an approachable and engaging way. They go far beyond the typical introduction historical fiction often gives, as each story follows a fictional character as they live through some of the most devastating historical events imaginable.
In this book, readers follow an 11-year-old named John Hale as he works to acclimate to his new home in the Dakotas. In addition to watching John struggle to be the new kid in a totally foreign landscape (he's a city boy at heart), your students will learn all about the unexpected blizzard that hit the area without warning in 1888.
After temperatures dropped to sub-freezing levels and 10 feet of snowfall within hours, the event left hundreds dead. Yet somehow, John survives even after he gets lost in the snowstorm. This is a great historical fiction book for 4th graders.
Cross-curricular connections: Weather, Urban vs. Rural, Westward Expansion
Ideal for: 3-5th graders
Teach with I Survived the Children's Blizzard of 1888
5. Caddie Woodlawn
This story is set in the 1860s, and although it is fiction, it is based on places the author's grandmother experienced growing up in Wisconsin during the time of Westward Expansion. Just note that although the book is set during the time of the Civil War, the family's rural existence is far removed from the historically significant events.
The main character, Caddie, can only be described as a tomboy, and after nearly dying during the long move from Boston to Wisconsin, her free spirit is allowed to run free with her brothers as she works to regain strength. Despite not fitting into the typical mold for girls during that era, Caddie doesn't back down from daring adventures and is an ultimate model of girl power.
Historical elements related to the challenges of pioneer life are covered in the book, but it also examines important themes about being true to yourself and being self-reliant.
Cross-curricular connections: Pioneer Life
Ideal for: 5th-7th graders
Teach with Caddie Woodlawn
6. Brian's Winter
If your students love Hatchet, this book is perfect for a winter novel study.
The story follows Brian's original tale but examines what might have happened had Brian been stuck in the wilderness alone in the winter instead of having the good fortune of the mild summer and fall months.
So many great conversations can be had about changes in nature and how animals and plants have adapted to survive the frigid weather. Brian is such a relatable character that you can't help but root for him to make it home safely.
Cross-curricular connections: Adaptations
Ideal for: 5th-7th graders
Teach with Brian's Winter
7. The Lion, the Witch, and the Wardrobe
As a girl, this C.S. Lewis classic made me want to go check the back of all our closets to see if we had a magical door of our own. Not surprisingly, we didn't…but the magic of the Chronicles of Narnia series stayed with me nonetheless.
The story revolves around four siblings who are sent to live with a man named Professor Kirke during World War II. During their explorations of their new home, the youngest of the group, a girl named Lucy, finds a large wardrobe. After stepping inside, she discovers this is no ordinary wardrobe! Instead, it is the doorway to the land of Narnia.
The only problem is that Narnia has been taken over by the White Witch and has been frozen into an eternal winter. The children vow to help the Great Lion, Aslan, save Narnia by freeing it from the White Witch's control.
Cross-curricular connections: World War II, weather/seasonal patterns
Ideal for: 5th-7th graders
Teach with The Lion, The Witch, and the Wardrobe
8. Julie of the Wolves
This novel is by the same author who wrote Stone Fox, Jean Craighead George, and revolves around the story of a young Eskimo girl, Miyax, who runs away to avoid being stuck in an arranged marriage that her father has set up after her mother's death.
Of course, running away from her village ends up leaving Miyax lost and alone in the frigid Alaskan wilderness. Through her struggles, she finds ways to adapt and befriends a pack of wolves who accept her into their family.
She is torn between her two identities when she returns to human civilization. She must decide if she will remain Julie of the wolves or return to life as Miyax.
Cross-curricular connections: Adaptations and survival, senses, Inuit culture
Ideal for: 5th-7th graders
Teach with Julie of the Wolves
9. Magic Treehouse #12: Polar Bears Past Bedtime
Many of the books I've shared have been geared toward older learners, so I also wanted to make sure I added an option for your younger readers.
Polar Bears Past Bedtime is the 12th book in the Magic Tree House series by Mary Pope Osborne. As with the other titles in the series, this story follows the adventures of Jack and Annie and their travels in the magical tree house they found in the woods behind them.
In this adventure, the pair finds themselves transported to the frozen Arctic. After meeting a seal hunter who lends them some warm clothes, they feel lucky to be alive until the ice beneath them begins to crack, and their only hope is a giant polar bear they see nearby.
One thing I really like about this book is that I can concurrently read the Polar Bears Fact Tracker that goes with it. This means students get exposure to nonfiction text features and learn more about polar bears, which helps them better understand the story.
Cross-curricular connections: Adaptations & polar environments
Ideal for: 2nd-3rd graders
Teach with Polar Bears Past Bedtime
10. Sugar and Ice
Sugar and Ice is the story of a young girl named Claire who loves ice skating. In fact, she loves skating so much that she spends hours on the pond near her home practicing for the town's Maple Show.
However, her life is thrown upside down when she gets spotted by a Russian skating coach and ends up with a scholarship to train with the best of the best at Lake Placid. Not surprisingly, Claire is unprepared for the cutthroat nature of the professional skating world, and she struggles to find her place as she struggles with fighting against those who hope to watch her fail.
This story is a great option to connect with the Winter Olympics because it gives a fictional look at what goes on behind the scenes and the training and commitment required to become elite.
Cross-curricular connections: Winter Olympics, Sportsmanship
Ideal for: 4th-6th graders
Teach with Sugar and Ice
Winter is the perfect time to curl up with a great novel, and it is a great time to introduce your learners to novel studies (if you haven't already).
Now that you have some options, which book will you use for your next unit?