Finding time to teach foundational language and grammar skills can be a challenge. Many writing blocks are way too short, especially when you've got a wide range of skills in your classroom. One option is to use daily practice during morning work or as bell ringers to help your students build their knowledge of these basics. A Daily Language Spiral can help you achieve this efficiently, allowing you to spend more time applying these skills to authentic writing activities during your English Language Arts block.
How will using this Daily Language Spiral help your students?
In under 15 minutes a day, your students will practice essential skills needed to understand the English language. With this easy-to-implement resource you can:
Increase your students' knowledge of foundational grammar & language skills
Build mastery of grade-level language standards in less than 15 minutes a day
Identify gaps in knowledge about conventions & editing and address them quickly
Increase focused writing time during your writing block
Grow vocabulary through word study
What's included in the Daily Language Spiral Review?
36 weeks of daily practice – including daily grammar, word work, and editing practice
5 essential skills per week, including parts of speech, word parts, and conventions
Weekly reflections & space for feedback to encourage meta-cognition
Scope & sequence to identify target skills for intervention or acceleration
Answer keys for easy scoring
Digital version available for Google Classroom
Available for grades 2-5 (6th Grade coming soon)
Want to test it out in your classroom?
When it comes to investing in resources for your classroom this school year, it is always better when you can ACTUALLY try something out with your students before you buy it, right?
Whether you're considering the print or interactive Google Slides version, you can click your grade level to access a two-week free trial of this daily review resource:
---
Why does it work?
I often get asked by ELA teachers why this Daily Language Spiral is so effective at helping students master the foundations of English grammar and word study. Besides being aligned with both Common Core and Texas ELA standards, this resource is designed to consider the format of the typical ELA classroom and is based on brain research that supports how students learn best.
Here are just a few key aspects that boost the effectiveness of this Daily ELA Review:
1. There's a focus on mastery learning.
We all know there's never enough time, but research tells us that students need multiple opportunities to practice in order to master a skill.
In this resource, students focus on the same 3-5 ELA skills all week long. This allows you to provide consistent feedback and make adjustments as they practice.
By checking work daily, students who struggle can get extra support and reteach from their ELA teacher. This is a fast and easy way to help them master these important language arts standards.
2. The format is designed for short, consistent practice, unlike boring grammar worksheets.
There are five core ELA skills practiced each day for most grade levels. (Second grade begins with three skills daily until mid-year.) This means your students can complete the practice in 10-15 minutes, making it a perfect choice for no prep morning work or warm-ups.
This limited practice includes explicit examples to help model and is a great way to encourage students to students invest their effort into understanding each component and how they fit together.
In addition, each week finishes with an opportunity to reflect on their strengths and challenges to help them grow.
3. Students have models to look back and across the week.
The one-page format builds in complexity across the week. However, since everything is together, students can use their work from prior days as a model when the questions become more difficult.
Explicit models, along with clear directions, help build student understanding and confidence when they get stuck and can support the needs of your struggling learners.
4. The skills spiral throughout the year giving students repeated chances to practice and review.
Unlike many one-and-done language arts resources, the format of this Daily Language Spiral allows you to reteach and pre-teach grammar, spelling, and editing skills without wasting precious minutes of your writing block.  
Repeated exposure to skills and essential vocabulary can help support your students and break down barriers to mastery.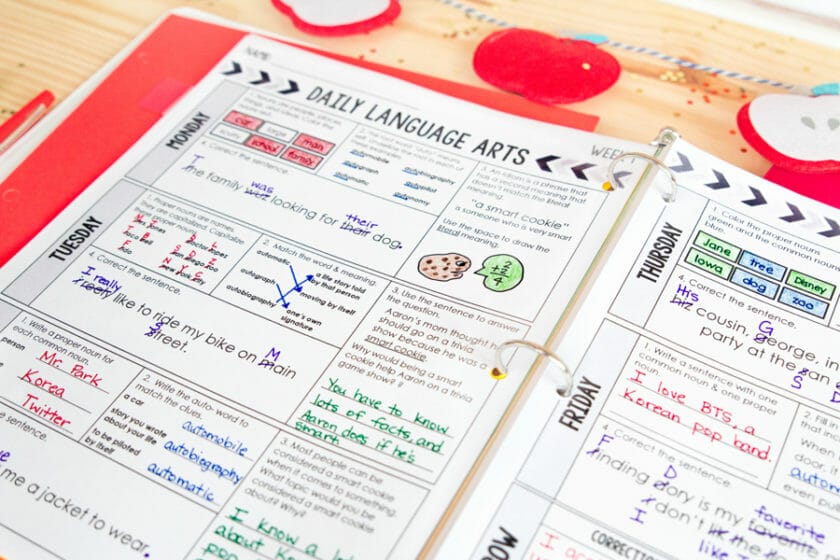 ---
Here's what teachers like you had to say about this product:
Talk about great reviews! By now you're probably ready to try it yourself and see what all the fuss is about.
---
So what are you waiting for?
​You don't have to rely on boring worksheets or long practice sessions to get your students to master basic language skills. All you need is 10-15 minutes per day!
Join thousands of English teachers who have finally found time to fit all in during their far too short language arts block.
Let this be the year you stop stressing about teaching grammar and start getting more done.
Just click on your grade level to enter your email address and access 2 free weeks now!